GCC's Vicki Arroyo named by Biden-Harris Administration to be Associate Administrator for the U.S. EPA Office of Policy
January 21, 2021
We are delighted to share the news that Vicki Arroyo was sworn in Wednesday to serve in the Biden-Harris Administration as Associate Administrator for the Office of Policy at the U.S. Environmental Protection Agency.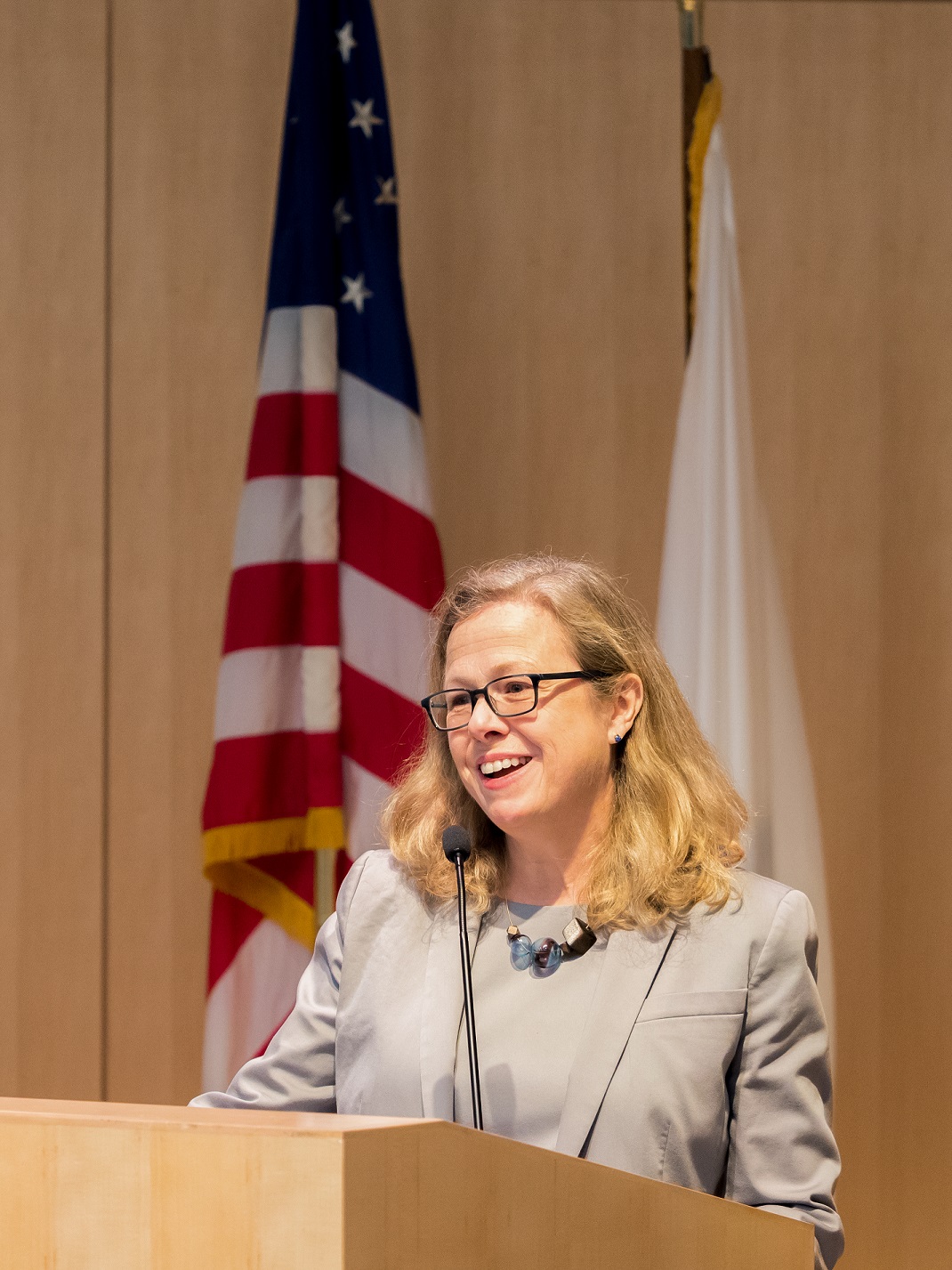 Since December 2008, Vicki Arroyo has been the Executive Director of the Georgetown Climate Center at the Georgetown University Law Center, where she is also a Professor from Practice and a Special Advisor to the President of Georgetown University. She was also previously Georgetown Law's Assistant Dean for Centers and Institutes and the Environmental Law Program Director. In 2018, Professor Arroyo was elected a member of the American College of Environmental Lawyers.
Professor Arroyo has served as Chair of the Executive Committee of the National Transportation Research Board (TRB) of the National Academy of Sciences and chaired TRB's Resilience and Sustainability Task Force. In 2020, Professor Arroyo served on the Steering Committee of the Climate 21 Project and was lead author of the transportation chapter providing recommendations for immediate policy steps the Biden-Harris Administration can take towards a cleaner, more resilient future. She also co-chaired the Transportation Working Group for America's Zero Carbon Action Plan, an initiative by the UN Sustainable Development Network to develop a pathway for the United States to decarbonize by 2050.
Arroyo previously served in EPA's Office of Air and Radiation and the Office of Research and Development, where she supported development of air toxics and criteria pollutant standards under the Clean Air Act. From 1988 to 1991, she created and directed the Louisiana Department of Environmental Quality's policy office, and also served during some of that period as Governor Buddy Roemer's environmental advisor. She also served as Vice President and General Counsel at the Pew Center on Global Climate Change, overseeing work on economics, science and impacts of climate change, and policy analysis for more than a decade.
Joe Kruger, currently GCC's Director of Research and Strategy, who will serve as GCC's Interim Executive Director, says this about the appointment: "This is a crucial time for the U.S. EPA, for the nation, and for the planet. The Georgetown Climate Center has benefited immeasurably from Vicki's unparalleled experience, keen insight, and boundless energy for the past 12 years, and we know she will bring those same strengths to her new role at EPA."
"Vicki Arroyo is a brilliant choice to help guide the EPA in this pivotal moment in the fight against climate change," said William Treanor, Dean of Georgetown Law. "The decision to appoint Vicki to this important role at U.S. EPA is clear evidence of the Biden-Harris Administration's commitment to EPA's mission to protect human health and the environment."
As the Georgetown Climate Center's founding Executive Director, Vicki Arroyo has led GCC's work at the nexus of state and federal climate policy. GCC works to inform the federal dialogue with lessons from leading states and communities on climate mitigation and adaptation, provides assistance to states on developing innovative new policies, analyzes the provisions of federal policy relevant to state and local government, and encourages policymakers to learn from state experience. Under Arroyo's leadership, GCC has established itself as a leading resource to state and local governments and to federal policymakers.
GCC's Adaptation Program helps states and communities prepare for climate change impacts, works to integrate equitable adaptation and resilience planning into all levels of government decisionmaking, and maintains the Adaptation Clearinghouse, a state-of-the-art database of resources for communities, policymakers, and adaptation professionals. GCC also facilitates the Transportation & Climate Initiative (TCI), a collaboration of Northeast, Mid-Atlantic, and Southeastern states and the District of Columbia that seeks to reduce carbon emissions from the transportation sector. In December 2020, TCI jurisdictions launched a groundbreaking multi-state program to cut greenhouse gas pollution from regional transportation by an estimated 26% from 2022 to 2032, and generate a total of more than $3 billion over ten years for the participating jurisdictions to invest in equitable, less polluting transportation options and to help energize economic recovery.
Read the full announcement from the U.S. EPA