Kate Zyla returns to Georgetown Climate Center as Executive Director
May 3, 2021
The Georgetown Climate Center (GCC) today announced that Kathryn (Kate) Zyla has been named GCC's new Executive Director. The new role represents a homecoming for Zyla, who was GCC's Deputy Director before joining the staff of Energy Foundation in 2018. In addition to her duties as Executive Director, Zyla joins the faculty as a senior lecturer at Georgetown Law, where she earned her law degree and has been teaching Energy Law and Policy as an adjunct professor.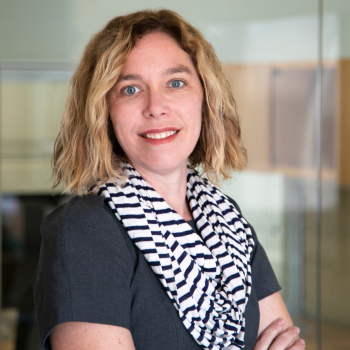 In her new role, Kate Zyla will lead GCC's work at the nexus of state and federal climate policy. Since its founding in 2009, GCC has established itself as a leading resource to state and local governments and to federal policymakers. Part of Georgetown University Law Center, GCC works to inform the federal dialogue with lessons from leading states and communities on climate mitigation and adaptation; provides assistance to states on developing ambitious, equitable policies; analyzes provisions of federal policy relevant to state and local governments; and encourages policymakers to learn from state experience.
"We are delighted to welcome Kate Zyla back to the Georgetown Climate Center and to the Georgetown Law faculty," said William M. Treanor, Dean and Executive Vice President of Georgetown Law. "Her outstanding combination of experience and expertise in energy and climate law and policy makes her the ideal choice to build on GCC's decade of leadership and success."
"Kate Zyla knows climate and energy law and policy, and she also knows Georgetown Climate Center, having helped the Center become a trusted resource at the intersection of state and federal climate action," said Professor Peter Byrne, GCC's faculty director. "She'll be able to hit the ground running and make sure GCC's vital work continues without missing a beat."
Zyla will be GCC's second executive director, succeeding founding director Vicki Arroyo, who was named the US EPA's Associate Administrator for Policy in January 2021. Zyla rejoins GCC after three years as Program Director, Northeast Policy, for Energy Foundation, where she developed and funded regional and state strategies to achieve climate and clean energy policy goals. Joe Kruger, GCC's Director of Research and Strategy, has served as Interim Executive Director since January.

"I'm thrilled to be returning to Georgetown at such a critical time for action on state, federal, and local climate change and energy policy, and to build on the work the Center has achieved over the past 12 years. These issues have never been more important to people's lives, and we have an urgent need and exciting opportunity to address climate change, protect public health, and ensure that costs and benefits are shared equitably," said Zyla. "I'm eager to renew my work with the talented faculty, students, and staff at the Climate Center and Georgetown Law, and also to bring what I've learned from the new partnerships and perspectives I've gained over the past three years to this work."
About Executive Director Kate Zyla
As the Executive Director of the Georgetown Climate Center, Kate Zyla oversees the Center's work at the nexus of climate and energy policy, supervising staff and student work on climate mitigation and adaptation at the state and federal level. She is also a senior lecturer at Georgetown University Law Center and faculty advisor for the student Georgetown Energy Law Group.
Zyla served as Deputy Director and Director of Research and Policy Analysis for the Climate Center from 2009-2018. Prior roles include Program Director, Northeast Policy, at Energy Foundation; Senior Associate in the Climate and Energy Program at the World Resources Institute; and Senior Research Fellow for Domestic Policy at the Pew Center on Global Climate Change. She has a BS in engineering from Swarthmore College, a Master of Environmental Management from the Yale School of the Environment, and a JD, cum laude, from Georgetown Law. Zyla has served as a Commissioner on the District of Columbia's Commission on Climate Change and Resiliency since 2017, and was a member of the Engineering Advisory Council for Swarthmore College from 2013-2018. In 2016, she received the Clean Energy Education and Empowerment (C3E) Law and Finance Award, given by the Department of Energy, MIT Energy Initiative, and Stanford Precourt Institute for Energy.