States and Stakeholders Envision a Cleaner Transportation Future and the Means to Achieve It
September 21, 2017
The Georgetown Climate Center hosted a symposium of business leaders, transportation experts, health care advocates, equity and environmental NGOs, and others in New York this week to give participants the opportunity to share their vision of a cleaner transportation future with state officials. Senior officials from 15 states and Washington, DC, participated in the event.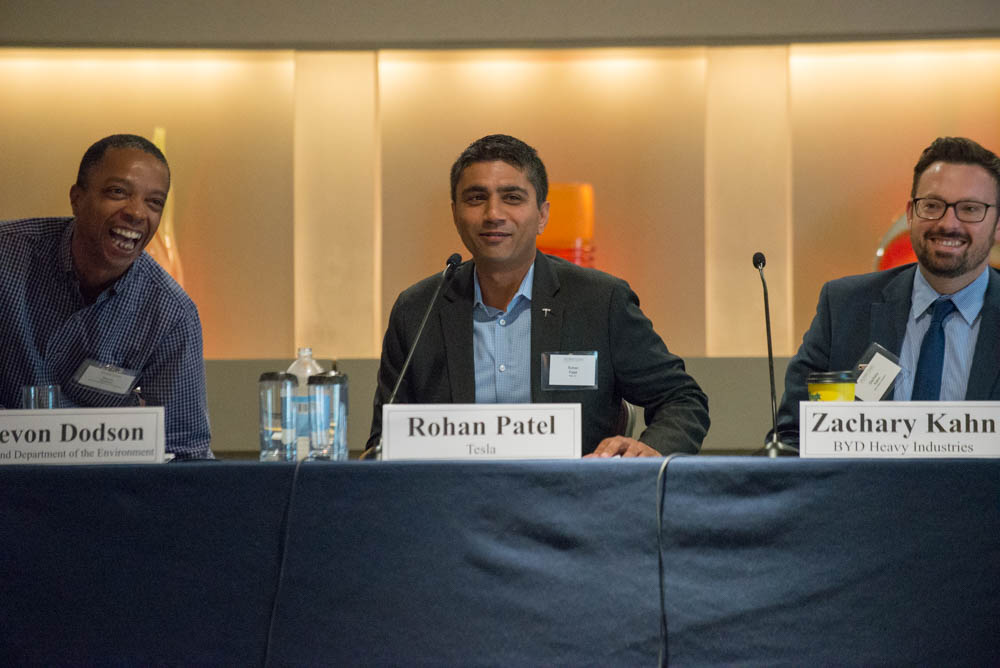 The symposium focused on what a cleaner, more resilient, and more reliable transportation system could look like in the northeast and mid-Atlantic region. Participants discussed important trends, opportunities, and policy options for achieving such a future. The Georgetown Climate Center held a similar meeting with stakeholders in April in Washington, DC.
Several northeast and mid-Atlantic states announced in 2015 that they were interested in exploring potential market-based policies to improve transportation and reduce pollution in the region.  Since that time, Georgetown has supported state efforts to research various policy approaches.
Below is a description of the event's sessions along with some photos of participants.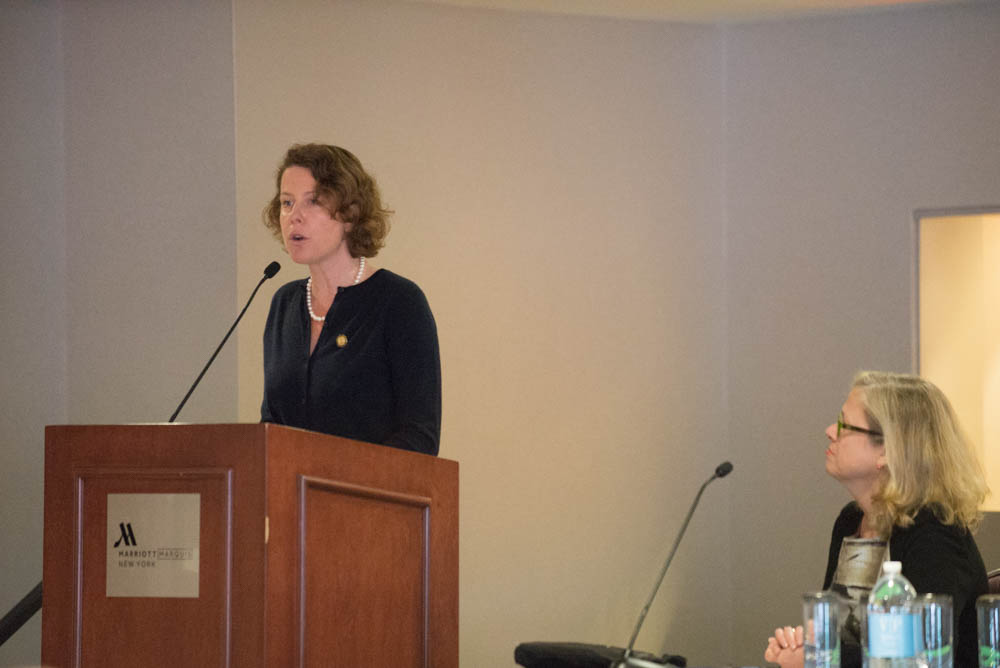 Wecome and Introduction
Vicki Arroyo, Executive Director, Georgetown Climate Center
Venetia Lannon, Deputy Secretary for the Environment, New York State


Opening Keynote
Rear Admiral David Titley, Director of the Center for Solutions to Weather and Climate Risk, Pennsylvania State University

Building a Cleaner Transportation System of the Future
Moderator: Jared Snyder, New York State Department of Environmental Conservation
Martin Suuberg, Massachusetts Department of Environmental Protection
Roger Cohen, Pennsylvania Department of Transportation
Meredith Brady, Rhode Island Department of Transportation
Rob Klee, Connecticut Department of Energy and Environmental Protection
Tommy Wells, DC Department of Energy and Environment

Business Opportunities in Cleaner Transportation
Moderator: Devon Dodson, Maryland Department of the Environment
Corey Ershow, Lyft
Rohan Patel, Tesla
Tom Driscoll, National Farmers Union
Elysa Hammond, Clif Bar
Zachary Kahn, BYD Heavy Industries
Chris Budzynski, Exelon
Lunch Dialogue Featuring Emil Frankel
Emil Frankel, senior fellow at the Eno Center for Transportation and former Assistant Secretary for Transportation Policy of the US Department of Transportation, engages in a conversation with Vicki Arroyo about transportation funding and resilience.

Environmental, Social, and Equity Considerations in Cleaner Transportation
Moderator: Susan Love, Delaware Department of Natural Resources and Environmental Control
Colette Pichon Battle, US Human Rights Network
Lizzi Weyant, Massachusetts Metropolitan Area Planning Council
Jennifer Wallace-Brodeur, Vermont Energy Investment Corporation
Mark Kresowik, Sierra Club

Market-based Policy Options to Guide a Cleaner Transportation System of the Future
Moderator: Kate Zyla, Georgetown Climate Center
Rajinder Sahota, California Air Resources Board
Eryca Dinsdale, Oregon Department of Transportation
Bert Hunter, Connecticut Green Bank
Ken Kimmell, President, Union of Concerned Scientists

Summary of Key Themes from the Day
James Bradbury, Georgetown Climate Center
Lois New, New York State Deparment of Environmental Conservation

Closing Remarks
Vicki Arroyo, Georgetown Climate Center
| | |
| --- | --- |
|    | |
|   |   |
|   |   |
|   |    |
|   |   |
|   |   |
|   |   |