Issue Brief: States Are in the Driver's Seat on Transportation Carbon Pollution
March 24, 2023
 & 
By James Bradbury, Zack Subin, Ben Holland, and Ryan Levandowski
How states spend federal funding could shift carbon pollution from transportation by as much as 5 percent, making it harder or easier to achieve climate goals 

Background and Key Findings 
President Biden has signed three pieces of legislation that could be transformative for U.S. climate action. One of these, the Bipartisan Infrastructure Law (BIL) (also known as the Infrastructure Investment and Jobs Act, or IIJA), is largely focused on the transportation sector – since 2017 the largest contributor to climate pollution in the U.S. BIL presents an opportunity to invest hundreds of billions of dollars in projects that have climate benefits, which could help the White House and the Department of Transportation achieve net-zero greenhouse gas emissions by 2050. Since BIL was signed into law, the Federal Highway Administration (FHWA) has provided policy direction through a proposed rule for states and Metropolitan Planning Organizations to track and set targets to reduce carbon pollution from federal highways. In January 2023, the Biden Administration released a multi-agency plan for transportation decarbonization, reiterating these objectives and further detailing opportunities for progress, including through coordinated efforts.
State governments will be instrumental to BIL implementation because of their important roles in directing what gets funded with federal dollars – including through formula fundingSee footnote 1  that makes up the bulk of BIL's transportation funding and is distributed directly to states, as well as competitive federal grant programs. State Departments of Transportation (DOTs) in particular are responsible for developing statewide transportation plans that include many of the projects that receive federal funding. States also have considerable discretion and flexibility regarding how they spend federal dollars.
In December 2021, the Georgetown Climate Center (GCC) found that if federal and state governments direct a substantial portion of the funding into highway expansion projects, BIL could increase surface transportation greenhouse gas (GHG) emissions over current trends. In contrast, if policymakers prioritize more climate-beneficial strategies, this could significantly accelerate reductions in transportation emissions, compared to what would otherwise be expected.
Building on that insight, RMI and GCC collaborated to take a closer look at 12 key states using GCC's Transportation Investment Strategy Tool (Tool). We found that investment decisions will have a significant influence on future state-level transportation emissions. Carbon pollution from on-road transportation could be 2 percent higher or 3 percent lower in 2032, compared to business as usual, depending on how BIL transportation dollars are spent. An increasing number of states are finding innovative ways to make progress on emission reductions while also maintaining their transportation systems and achieving other important goals, like safety and accessibility. Furthermore, in addition to federal funds, many states invest several times more every year on transportation projects than they stand to receive from BIL using other sources of transportation funding. If state and local governments also direct their own transportation funding towards climate-aligned strategies, the total emission reductions could be much greater. We also found that several state governments are playing leadership roles in advancing low-carbon transportation solutions in a variety of exciting and creative ways. 
State investment scenarios using the Transportation Investment Strategy Tool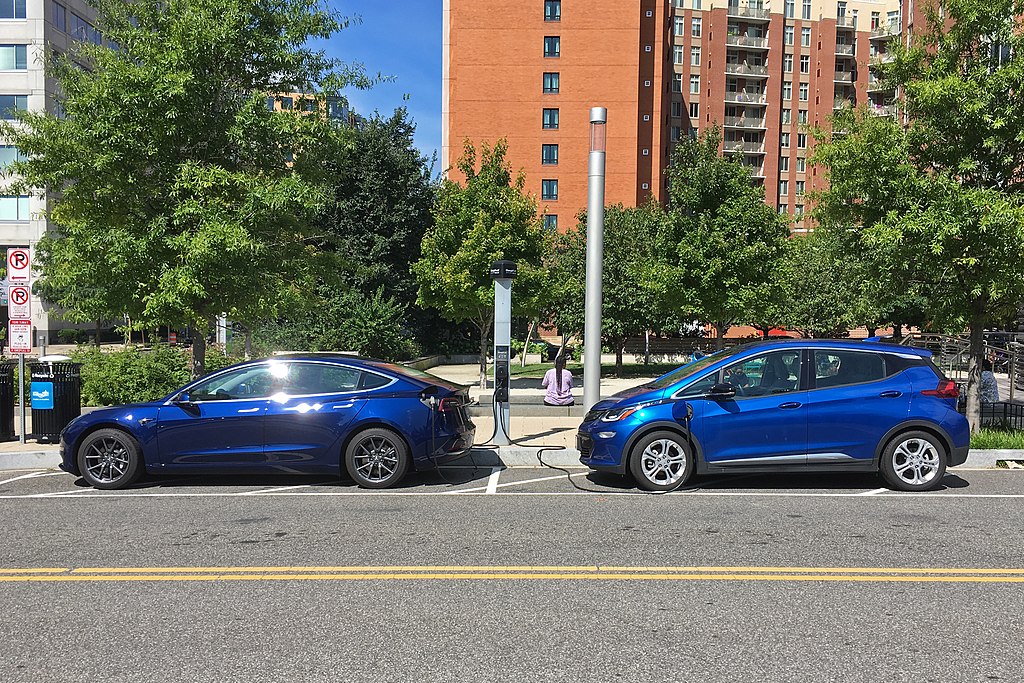 We selected 12 states for this analysis, starting with the 10 states with the highest gasoline consumption (California, Texas, Florida, New York, Ohio, Georgia, Pennsylvania, North Carolina, Michigan, and Illinois). We also included Colorado and Washington, both states with large populations and recently enacted climate policies, which RMI is following through ongoing analysis.See footnote 2  Together, these 12 states account for more than half of all GHG emissions from gasoline and diesel consumption in the U.S.See footnote 3 
Three investment scenarios (Figure 1) illustrate the range of potential emission outcomes.  For each state and each scenario, we analyzed transportation emissions using GCC's Tool, allocating BIL transportation dollars to states in proportion to each state's share of formula funding. The investment scenarios in the first two scenarios closely follow those developed for the earlier GCC analysis, published in December 2021. We developed a new "Very Low emissions" scenario for this analysis to further explore the maximum emission-reduction potential of BIL. GCC also enhanced the Transportation Investment Strategy Tool to more precisely account for the GHG benefits of investments in electric vehicle (EV) charging infrastructure.See footnote 4  "Baseline" emissions were updated in the Tool, including by incorporating an estimate of how the Inflation Reduction Act (IRA) could affect future GHG emissions from transportation – mostly through tax incentives for EVs.See footnote 5  GCC found that transportation measures in the IRASee footnote 6  could cumulatively reduce U.S. emissions by more than 65 million metric tons (MMT) of carbon dioxide equivalent (CO2e) below business as usual, through 2040. 
This analysis focused on surface transportation funding in BIL and accounted for the flexibility available to state and local governments in each relevant BIL program to understand how implementation could affect GHG emissions outcomes. The analysis did not account for individual state laws or currently-available capital plans (i.e., what states are currently doing or planning to do with BIL dollarsSee footnote 7 ), which will steer their emissions in one direction or another. Therefore, each of the investment portfolios that we modeled is strictly illustrative of potential – not planned – spending.
The following three scenarios are designed to illustrate approaches that state and local governments may take when making investment decisions regarding the federal portion of transportation funding from BIL: 
High emissions scenario

: Investment decisions favor highway expansion and otherwise do not account for the carbon emission impacts of their transportation projects.

Low emissions scenario

: Includes far fewer investments in highway expansion and a more climate-conscious approach to prioritizing transportation infrastructure investments.

Very Low emissions scenario

(new for this analysis): No investments of BIL dollars are made in highway expansion, and all other investments of these funds prioritize cutting carbon pollution to the maximum extent legally allowed.  This scenario assumes that states take advantage of their

authority to "flex"

up to half of the dollars in the National Highway Performance Program into the Surface Transportation Block Grant program (to make a broader range of low-carbon project types eligible for investments using BIL dollars).
Figure 1: Investments shifted from highways to electrification, transit, and active modes in lower emissions scenarios


Investment portfolios for the three scenarios analyzed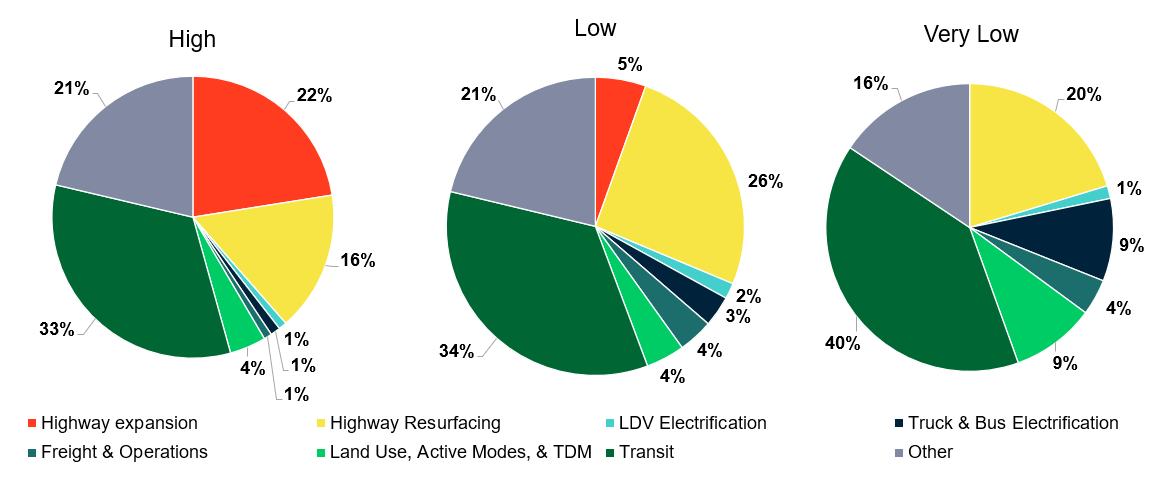 Notes: LDV = Light-duty vehicle; TDM = Transportation Demand Management; and SGR = State of Good Repair.
In practice, all states have existing multi-year Statewide Transportation Improvement Plans (STIPs) that commit funding to specific projects through planning processes that began prior to the passage of BIL. Therefore, while BIL includes a substantial increase in funding over the previous federal transportation bill, including historic levels of competitive grant funding, a substantial portion of BIL's formula-funded transportation dollars may already be spoken for, in the context of existing STIPs. 
Nevertheless, all state DOTs and MPOs are involved with ongoing planning processes to update and develop new projects and plans for future years, presenting new opportunities to more actively incorporate climate considerations into investment decision-making going forward.  With this in mind, we draw several important findings from the results of this analysis.
Finding #1: All states have opportunities to cut emissions
Depending on the investment scenario, future GHG emissions from transportation could be substantially above or below the baseline in all of the states we assessed (Figure 2). The figure below shows that all 12 states have opportunities to cut millions of tons of carbon pollution through climate-minded approaches to BIL implementation. (More detailed results for all 12 states modeled for this analysis are available in supplemental slides). This reflects a cumulative change in emissions, relative to business as usual, through 2040, as a result of just 5 years of transportation investments with BIL dollars. 
Figure 2: State investment decisions could shift road transportation GHGs up or down


Cumulative change in GHG emissions from on-road transportation by scenario and state, relative to Baseline (2022-2040).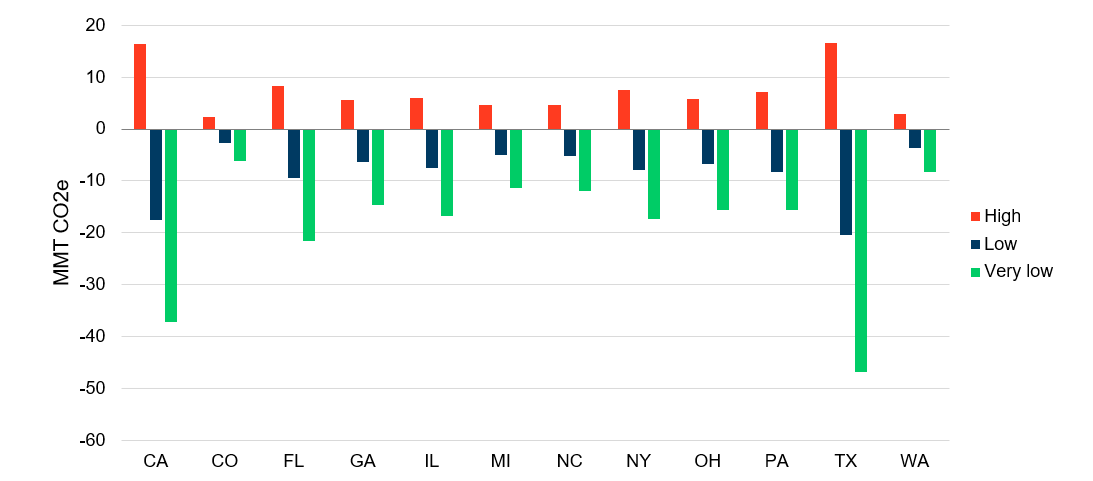 It is important to note that BIL funding only extends to 2026, after which the estimated emission-reduction benefits of investments into most low-carbon strategies gradually diminish (e.g., the benefits of highway resurfacing decline over time, as the roadway gradually deteriorates). On the other hand, investments in highway expansion tend to have a persistent long-term effect on emissions for many years into the future. In the year 2032, we found that investment decisions with BIL funding could result in up to 2 percent more carbon pollution from on-road transportation, compared to business as usual – or decisions could result in as much as a 3 percent reduction. For some states, that amounts to a 5 percent difference in transportation emissions in 2032, when comparing our High and Very Low emission scenarios. This builds on conclusions from GCC's 2021 study; adding the new Very Low emission scenario explores opportunities for even greater emission cuts than previously analyzed.  
By way of comparison, we estimated that the IRA would reduce U.S. on-road transportation emissions by less than 1 percent in 2032. As others have noted, this is largely because the IRA includes only a few transportation-related policies, compared to other sectors. While all 12 states showed a long-term downward emissions trend across the three scenarios (as a result of vehicle electrification, consistent with the Baseline; see supplemental slides), state-level results varied in magnitude, primarily due to differences between each state's total share of BIL transportation dollars, as determined by formula funding.See footnote 8 
Finding #2: Some investments have a bigger effect on emissions, dollar for dollar
Across the 12 states, we found that minimizing further highway expansion was the most important lever to avoid putting upward pressure on transportation emissions. Research has shown that while expanding highways to ease traffic congestion may provide near-term relief, the phenomenon of "induced demand" leads to an increase in vehicle miles traveled (VMT). In other words, highway expansion eventually results in more driving, more traffic, and more pollution than before the new lanes were added. 
Conversely, several low-carbon investment strategies stand out as particularly potent ways to reduce GHG emissions, per dollar invested. This includes vehicle electrification strategies as well as investments that reduce VMT: charging infrastructure for electric vehicles, electrification of trucks and buses, travel demand management, climate-aligned land use, and efficient system operations.See footnote 9 
The graphic below (Figure 3) illustrates that investments in a variety of strategies can combine to achieve substantial emission reductions. This is because a diverse investment portfolio can help to make a broader range of clean transportation choices more readily available and attractive to individuals and private companies alike. Many of these strategies also help to achieve safety, infrastructure state of good repair, and other transportation policy priorities, suggesting that there are many opportunities for alignment between transportation and climate policy goals, as long as investments in highway expansion are limited.
Figure 3: Multiple low-carbon investments can be combined to achieve substantial emission reductions


Emission savings by aggregated strategy, state, and scenario (California example)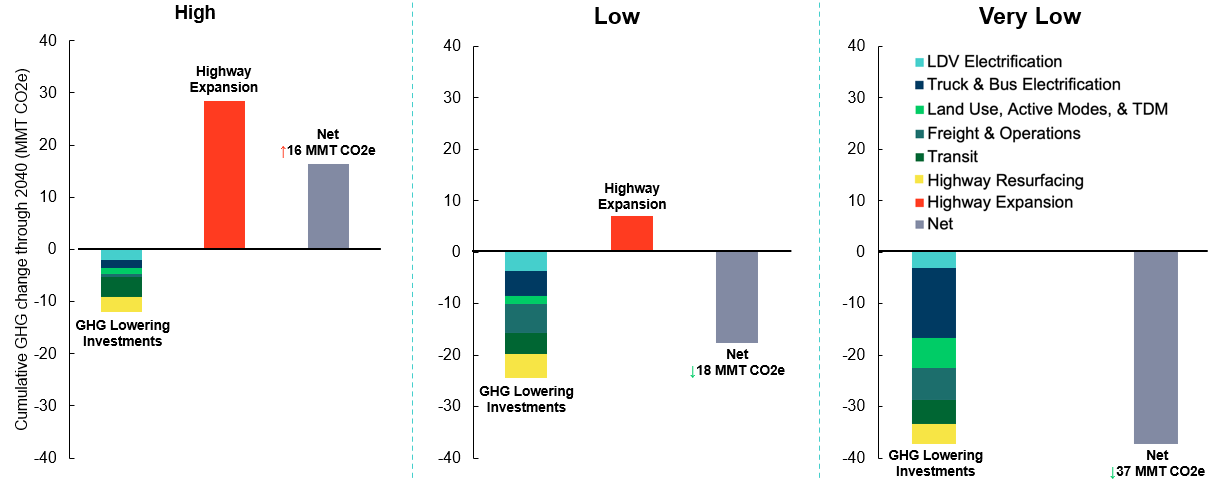 Finding #3: Each state charts its own transportation emissions pathway, and balances a variety of considerations in doing so
State DOTs lead the state transportation planning processes from which most projects emerge, so they have critical roles to play in charting each state's pathway to a low-carbon transportation future. They are also charged with navigating federal administrative processes and delivering outcomes on a range of federal policy requirements, like safety and bridge conditions, plus federal and state political commitments, such as equity and justice. Many social, economic, and environmental considerations must be factored into transportation investment decisions, and many other government decision-makers – such as governors, legislatures, and local governments – have a say in the investment decision-making process. In some states, legislatures have the final say in terms of which projects get funded, reducing the discretion of state DOTs and MPOs.
Within this context, several state governments are playing leadership roles in advancing low-carbon transportation solutions in a variety of exciting and creative ways:
A historic opportunity to support a climate-aligned transportation system
States have a remarkable amount of flexibility to steer BIL investments toward projects that can help them achieve their climate goals. However, if transportation planning processes and investment decisions do not account for GHG emissions, the resulting projects are unlikely to yield good outcomes for the climate, making it harder for states to achieve their emission reduction goals. 
It is important to recognize that transportation investments over the last half century have primarily been directed towards roadways, rather than inherently climate-friendly public and active transportation modes. For example, since 1982, funding for highway and highway safety programs have consistently averaged 80 percent of total federal funding authorizations, compared to 20 percent for mass transit programs. Additionally, when investments prioritize building new roads and adding lanes to freeways at the expense of maintaining existing infrastructure, this contributes to a growing backlog of repair and maintenance projects. Meanwhile, evidence continues to mount that investments in capacity expansion projects do not deliver the promised benefits of reducing congestion. Instead, capacity expansion projects have encouraged greater vehicle use, more dispersed land use, and greater climate pollution.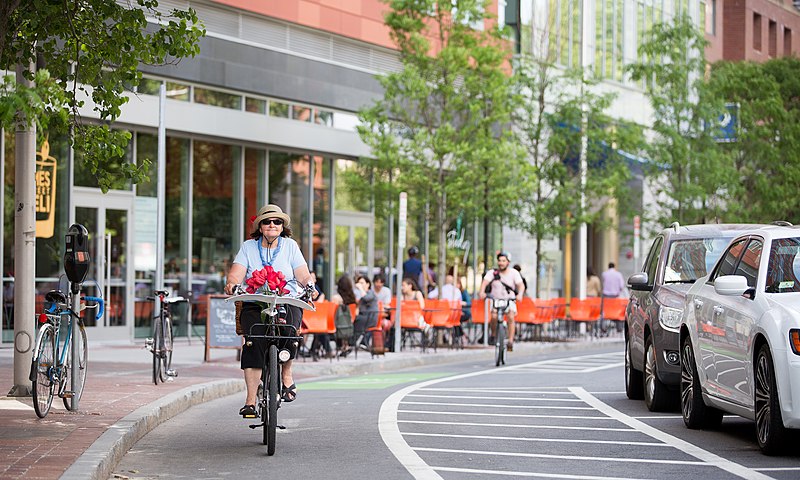 States and local governments have an opportunity to reverse these past trends, and to reprioritize future transportation funding towards investments that align with climate policy goals. Of course, state policymakers also need to balance a range of policy imperatives, including safety and asset management, which requires substantial investments in backlogged maintenance projects. Nevertheless, emission-reduction goals could also be incorporated into transportation planning, to help seize the many available low-carbon transportation investment opportunities. Such opportunities come in the form of formula funding, which states have flexibility to use for a wide range of project types, including low-carbon strategies. BIL also includes tens of billions of dollars in competitive grant funding for transportation, a large amount of which is potentially available for low-carbon projects. To make best use of these opportunities, state DOTs, MPOs and communities will have to collaborate to generate a new slate of future project proposals for transit, clean vehicles, active transportation, and compact land use. Such projects can also help state and local governments achieve other policy goals, such as equity of access, safety, and public health.
States have even greater leverage over their transportation emissions than what we estimated through modeling for this study. For example, the FY 2022-2023 budget for CalTrans is just over $20 billion, whereas California's share of federal formula funding in the same year is about $5 billion – a ratio of three to one. This suggests that if states better align their full transportation investment portfolios – federal monies, state trust funds, and other sources – with their ambitious climate policy goals, they could unlock even greater climate and social benefits. Future research may explore a more detailed review of state transportation budgets and capital plans and estimate how specific state transportation and land-use policies may affect future emissions outcomes.
Special thanks to Drew Veysey, for his contributions to the research and analysis that went into the modeling for this Issue Brief.