Communication and Engagement
Communications strategies focusing on both the public and on other government partners are vital to implementing successful green infrastructure programs.  Increased public awareness and satisfaction with green infrastructure projects can lead to increased support for further projects as well as potential opportunities for private property owners to install their own green infrastructure practices, such as rain gardens. Collaborating with partner agencies can increase the potential buy-in for green infrastructure practices throughout the local government, as well as to increase the potential funding streams and manpower for ongoing operations and maintenance. As the benefits of green infrastructure are available more quickly than the benefits for gray, effective communication strategies can relay that information to the public to build support. Several strategies exist to communicate the benefits of green infrastructure: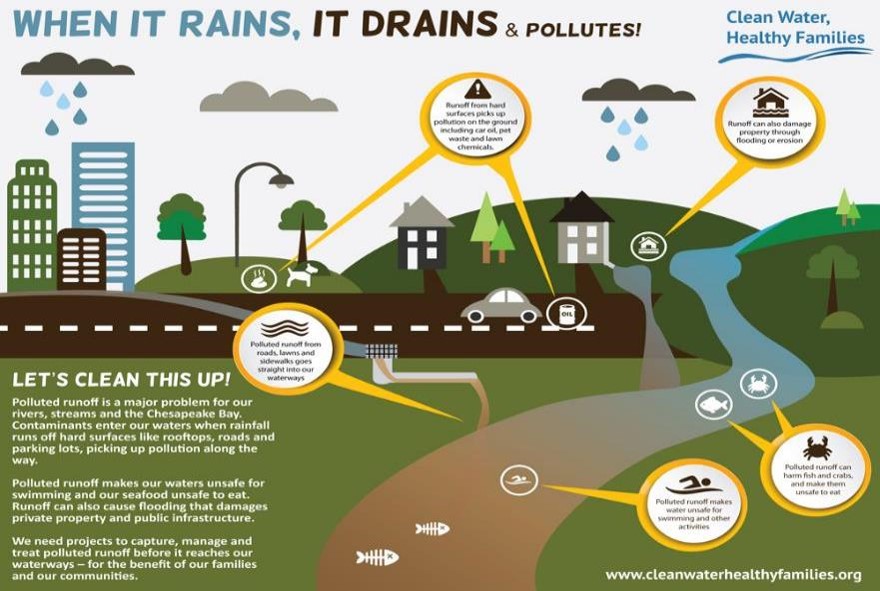 Source: Clean Waters, Healthy Families Coalition, www.cleanwaterhealthyfamilies.org
Presentations and Workshops: Holding presentations and workshops enables staff to meet individual members of the community and better understand and meet community needs. For example, New York City's Department of Environmental Protection makes presentations to community boards and other civic and environmental organizations, in addition to elected officials and their staffs, about the city's Green Infrastructure Program.  Likewise, as part of its 10,000 Rain Gardens Program, Kansas City sponsored "how-to workshops" for private landscaping businesses and municipal employees that explained the initiative, rain gardens, and water quality concerns.  These workshops not only raised awareness but trained contractors and city employees in installation and maintenance techniques.
Media Campaigns: Kansas City engaged in an extensive media campaign involving interviews on television and the radio, as well as advertisements and articles in local newspapers.  These media campaigns reached an estimated three million people in 2007.  In 2013, New York City's Department of Environmental Protection created an educational video on the Green Infrastructure Program, which described some of the environmental challenges caused by combined sewer overflows as well as some green infrastructure solutions such as green roofs, rain gardens, and permeable pavers. 
Websites: In 2013, New York City's Department of Environmental Protection launched a new website that provides information on the City's Green Infrastructure Program, including the most common types of green infrastructure practices as well as a map of priority areas. Community members can use the site to see if their neighborhood will receive green infrastructure installations and to better understand the practices. Kansas City's 10,000 Rain Gardens initiative created a website offering residents and other audiences a clearinghouse of information pertaining to the program and to stormwater management more generally, and was receiving over 100,000 visits per year even after the main media campaign had ended.
Written Materials: Written materials such as brochures and surveys can be effective means of engaging the public and partner agencies about stormwater management practices and the municipality's use of green infrastructure. For example, New York City's Department of Environmental Protection developed a brochure that explains the siting and construction process for projects in the right-of-way, answers frequently asked questions, and describes the co-benefits of green infrastructure.  Similarly, Seattle Public Utilities (SPU) used parking surveys to better understand and meet the needs of the community for its Street Edge Alternatives Program. The surveys revealed community concerns about reductions in parking due to reductions in street width caused by the installation of green infrastructure projects.  SPU responded to this concern by installing occasional angled parking clustered along the street.
Inter-Agency Partnerships:  Creating partnerships between agencies can help to implement green infrastructure practices both efficiently and effectively. By pooling the resources, expertise, and knowledge of different agencies, inter-agency partnerships can be crucial to successful pilot programs. These partnerships can exist to aid in any stage of the process, including planning, installation, maintenance, and monitoring. For example, in New York City, the Departments of Environmental Protection and Parks and Recreation have worked together to develop the Green Infrastructure Maintenance Program in order to allocate appropriate resources for the long-term maintenance of DEP's green infrastructure projects.