Evaluation and Development of Regional Infrastructure for Vehicle Electrification (E-DRIVE)
October 15, 2021
The Evaluation and Development of Regional Infrastructure for Vehicle Electrification (E-DRIVE) is a user-friendly analytical tool that supports the planning of electric vehicle (EV) fast charging infrastructure throughout the United States. 
This national mapping tool allows users to rank and display priority locations for EV fast charging infrastructure development for states and metro areas in regions throughout the entire United States, using the Tableau software to conduct a Geographic Information Systems (GIS) analysis. The E-DRIVE tool was released by Georgetown Climate Center and M.J. Bradley & Associates, an ERM Group company.
The E-DRIVE tool is focused on public direct current fast charging (DCFC) infrastructure and identifies potential priority locations for future EV infrastructure development at the census tract level. The tool allows users to generate rankings of locations that reflect the relative suitability of those locations for infrastructure development based on regional, state, or local priorities and displays the dynamic results on an interactive web-based map for each US census division. The customizable metrics for analysis include proximity to existing EV charging infrastructure, commercial activity, traffic volume, access to home charging, and demographic data.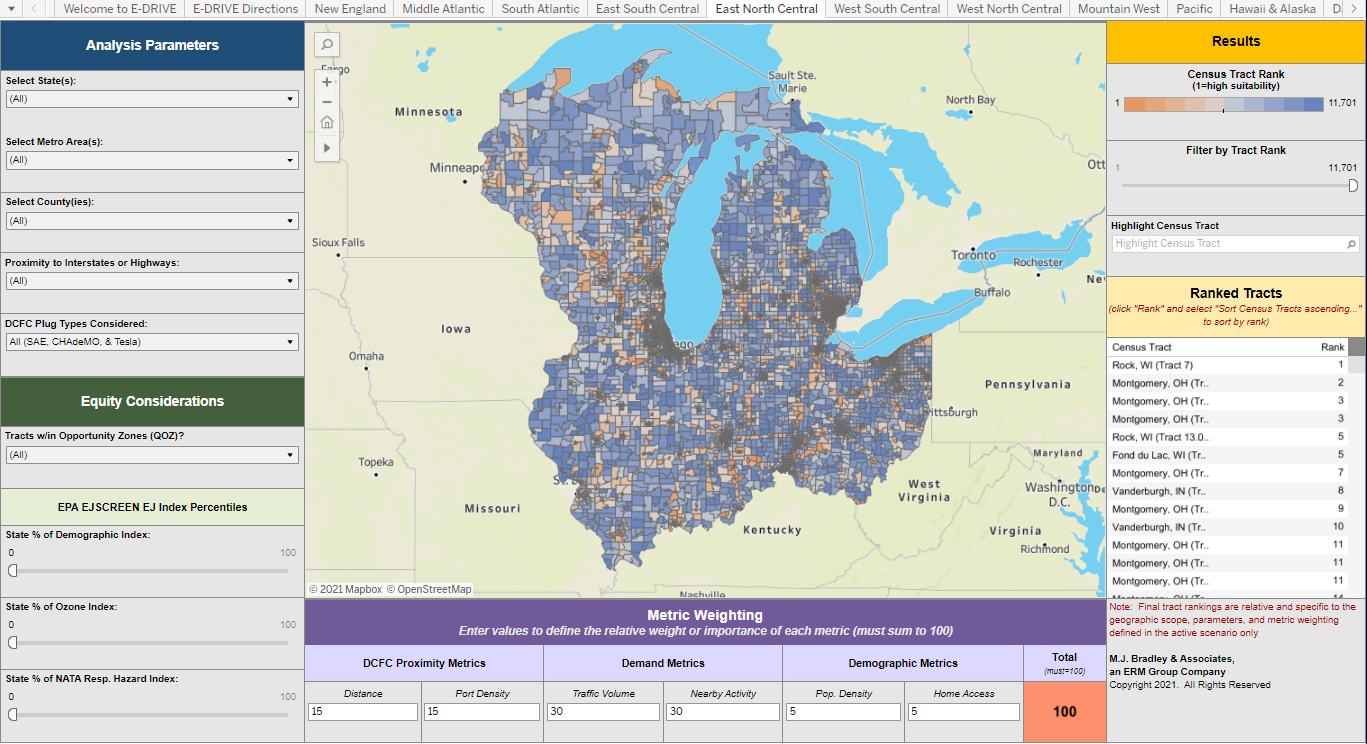 The E-DRIVE tool applies the analytical framework developed for the more comprehensive Regional EV Charging ILIT, developed for the Northeast, Mid-Atlantic, and Southeast states. The E-DRIVE tool applies a version of that tool to all 50 U.S. states and D.C. to support regional, state, and local planning for more equitable and informed investments in EV charging infrastructure.
To support equitable climate investments that prioritize communities overburdened by pollution and underserved by current transportation systems, the E-DRIVE Model incorporates environmental justice data  from the US EPA's EJ SCREEN and other equity metrics. These features will allow users to overlay demographic, economic, and environmental indicators as they consider locations for potential EV charging infrastructure investment. Georgetown Climate Center aims to further develop this tool, in partnership and collaboration with community-based and equity-focused organizations, to reflect the needs of community-based organizations and other groups working on equitable deployment of EV fast charging infrastructure. 
Please contact climate@georgetown.edu with any questions about the tools, suggestions for enhancements, or opportunities for collaboration.
The E-DRIVE is publicly available and free to use. Register and access the E-DRIVE on the M.J. Bradley & Associates website.