New report from Georgetown Climate Center and M.J. Bradley & Associates shows opportunity for strategic federal investment in electric vehicle charging infrastructure
March 18, 2021
The electrification of cars, trucks, and buses is an important strategy for reducing greenhouse gas emissions and other air pollution, and can lead to cleaner air and healthier communities. As federal policymakers develop infrastructure and climate legislation to create jobs and spur economic recovery, the Georgetown Climate Center and M.J. Bradley & Associates have released Towards Equitable and Transformative Investments in Electric Vehicle Charging Infrastructure, to inform federal investments in electric vehicle (EV) charging infrastructure. Investments in EV charging present opportunities to advance equity and environmental justice, spur job creation, build the clean energy economy, and address the climate and public health crises facing the United States.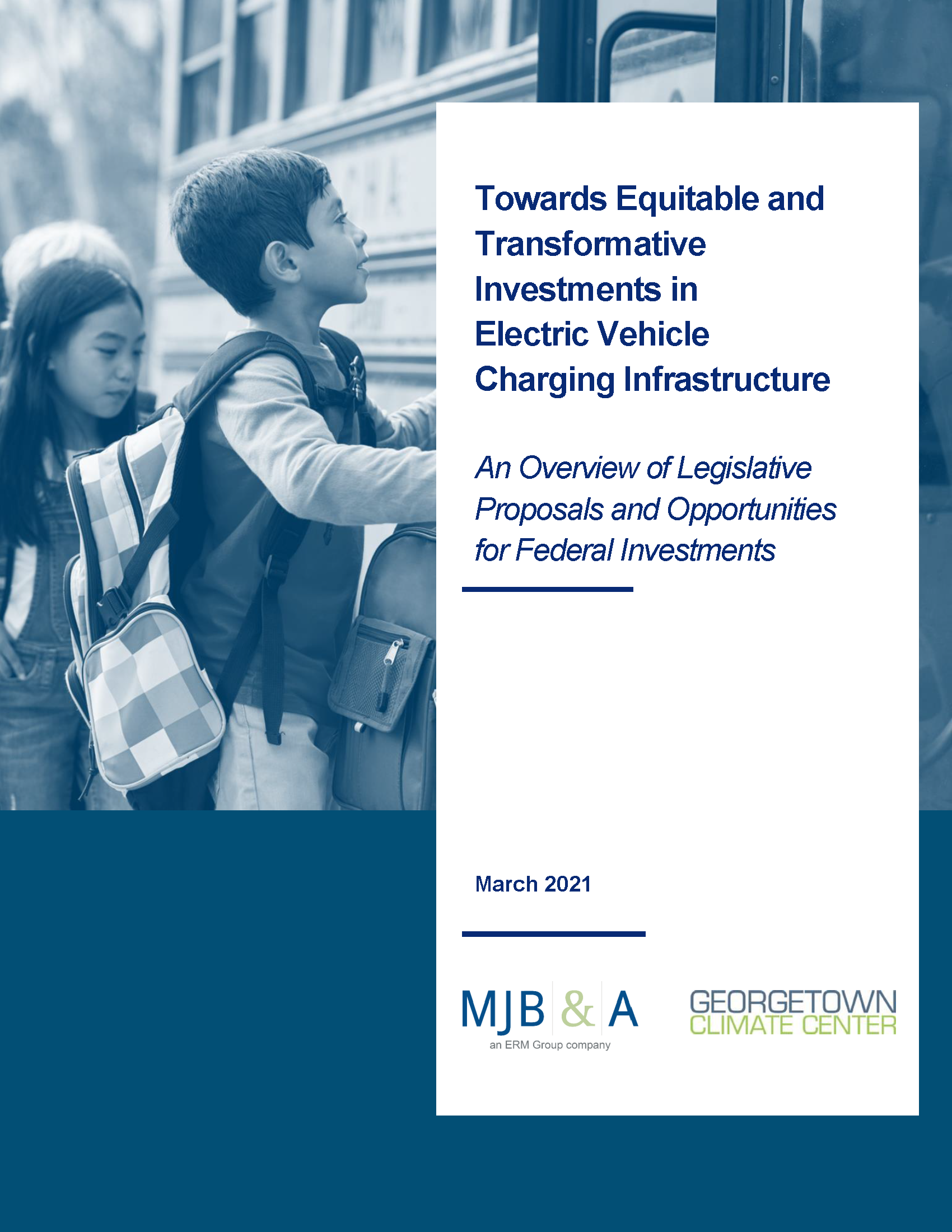 The report provides a summary of the EV charging investments included in recent congressional bills on climate, clean energy, and transportation, and outlines ways federal investments could be designed to be more equitable and transformative. Georgetown Climate Center and M.J. Bradley & Associates provide lessons and examples from previous federal programs, and describe examples of state and local transportation, clean energy, and climate policies that federal policymakers can learn from and build upon. Key themes from the report include:
Equity and Environmental Justice: Federal investments in transportation electrification can advance environmental justice and equity in communities overburdened by air pollution and underserved by transportation. Targeted investments in electric transportation can improve air quality and transportation accessibility in the communities who need it most and achieve more equitable outcomes by giving these communities leading roles in planning, prioritizing, and implementing investment programs.
The Scale of the Opportunity: Significant investments in charging infrastructure will be necessary to support a zero-emission transportation system in the United States, and these investments have the potential to deliver public health and climate benefits, create jobs, and stimulate private investments in clean energy technology. To maximize benefits, minimize costs, and achieve a transportation electrification market transformation, investment must also be accompanied by deliberate coordination and planning.
Medium- and Heavy-Duty Vehicle Electrification: There is a significant opportunity for federal investment to accelerate the electrification of medium- and heavy-duty vehicles, including trucks, buses, and port equipment--significant sources of harmful air pollution, such as ozone, nitrogen oxides, and particulate matter.
"Investing in a national network of EV charging infrastructure has the potential to deliver cleaner air and accelerate progress in dealing with climate change. Done right, these investments can also advance equity and environmental justice by reducing air pollution in communities that have been hardest hit by the COVID-19 pandemic." said Joe Kruger, Interim Executive Director at the Georgetown Climate Center. "This analysis will help federal policymakers to understand the scale of this opportunity and what steps can be taken to meet it, building on the leading work of states and community groups across the country."
"A strong commitment to charging infrastructure from federal policymakers will be a critical component to spurring and supporting the widespread transportation electrification needed across the U.S.," said Paul Allen from M.J. Bradley & Associates. "This analysis describes how these efforts can complement state, utility, and private sector efforts to build our communities and reduce emissions."