Issue Brief: Final ACE Rule Raises State Concerns
July 2, 2019
On June 19, 2019, the Trump Administration released a final regulation—dubbed the Affordable Clean Energy Rule (ACE)—that repeals and replaces the Obama Administration's Clean Power Plan. This issue brief, prepared by the Georgetown Climate Center (GCC) and M.J. Bradley & Associates, summarizes ACE and explores concerns raised by the rule, including those contained in joint comments by 14 states (facilitated by GCC) that were submitted after the initial proposal. The brief also previews some of the litigation issues that are likely to arise over ACE.
Key findings include:
At the heart of ACE is a minimalist interpretation of EPA's authority to regulate greenhouse gases under the Clean Air Act. Under Section 111 of the CAA, EPA is required to promulgate the best system of emissions reduction (BSER) for existing power plants. 

ACE proposes that a variety of heat rate improvement (HRI) measures satisfy BSER mandates for coal-fired electric generating units (EGUs). By only including HRI measures to reduce power plant emissions, the final rule ignores other options that have the potential for greater reductions in greenhouse gas emissions and other air pollution.  These include measures already deployed by states and power companies, including co-firing with natural gas, adding renewable generation facilities, generation shifting, and more. 

Emissions trading or averaging is prohibited, and the rule also implies that sState plans that apply more stringent requirements than the BSER are likely to be disapproved by the EPA. 

The Final Rule also mandates that states must conduct "unit specific evaluations of HRI potential, technical feasibility, and applicability," and can consider the remaining useful life of an EGU when establishing emissions standards. This will likely lead to less stringent performance standards, as well as increased administrative burdens to states. 
Likely areas of litigation:
The ACE rule only includes a range of percent emission reductions and costs, which states must apply to units in their states.  This guarantees results in regulatory uncertainty, as ACE fails to establish a common, national baseline for environmental performance. Thus, many states and other stakeholders will argue that the Final Rule fails to meet EPA's obligation under Section 111 of the CAA to mitigate pollution that the Agency finds endangers public health and welfare and will encourage a "race to the bottom" when it comes to setting guidelines for emissions reduction.
Finally, EPA's Regulatory Impact Analysis (RIA) for the Final Rule projects emission increases in some states under certain scenarios. In one scenario (see Figure), EPA's RIA projects that in 2035 under ACE, 21 states would see emission increases compared to the CPP in 2030. States and other stakeholders will argue that a unit-specific "best system of emission reduction" cannot lead to emission increases at some units and satisfy the statute.

Download the full analysis here.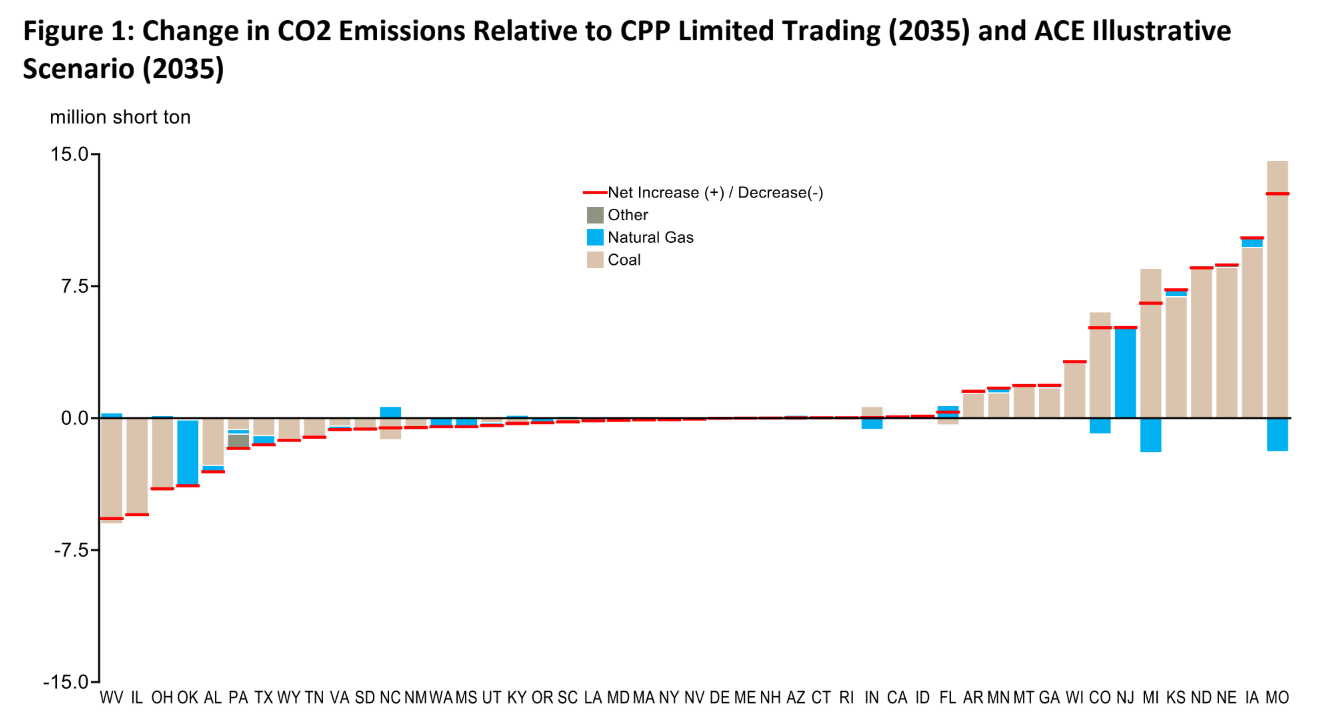 Source: Analysis of EPA's RIA and Power Sector Analysis available: https://www.epa.gov/airmarkets/analysis-final-ace-rule
About the Clean Power Plan Repeal and ACE
Over the past two years, the Georgetown Climate Center (GCC) has worked with state leaders to defend against attempts to repeal or weaken important federal greenhouse gas regulations. In addition to building a strong legal record, state comments demonstrate to the international community that despite the lack of federal leadership, a bipartisan coalition of states strongly supports reducing GHG emissions.