Report: Building housing security and climate resilience through community land trusts
January 29, 2021
Housing insecurity and the impacts of climate change are interrelated issues increasingly affecting cities across the United States. The communities most significantly burdened by housing costs and housing instability are also the most at-risk from climate impacts like worsening heat waves and extreme weather events; the COVID-19 pandemic has shed further light on the challenge of housing insecurity in the U.S. Community land trusts (CLTs) can present useful partnerships to simultaneously tackle these challenges by promoting community ownership and decision-making, and providing permanently affordable and resilient housing.
To help state and community leaders support community land trusts and work to enhance climate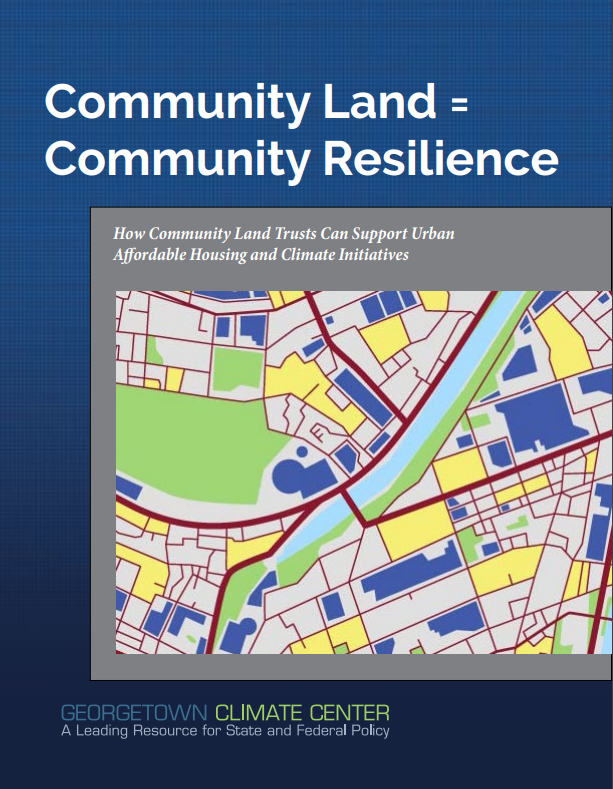 resilience, the Georgetown Climate Center has released Community Land = Community Resilience: How Community Land Trusts Can Support Urban Affordable Housing and Climate Initiatives, a comprehensive guide authored by longtime GCC Adaptation Program Director Jessica Grannis, now the Coastal Resilience Director at the National Audubon Society. Drawing from nine detailed case studies and other examples, Community Land = Community Resilience presents legal and policy recommendations and best practices to support CLT work to address housing affordability, while integrating features like green infrastructure and renewable energy that promote urban resilience and sustainability.  
As nonprofit organizations with community-led governing structures, CLTs hold land in trust for the benefit of the community, often providing and preserving affordable housing, stewarding community amenities like parks and greenspace, and providing other social services.
"Community land trusts have tremendous potential as a strategy for putting decision-making power back in the hands of community members, while encouraging climate resilience and community growth," said Grannis. "This report gives local and state leaders the tools and examples they need to bring the benefits of CLTs to the communities that need them most."
Read more about the Community Land = Community Resilience report in GCC's Adaptation Clearinghouse