Webinar Recording: "Advancing New Jersey's Climate Goals with Transportation Infrastructure Investments"
January 26, 2023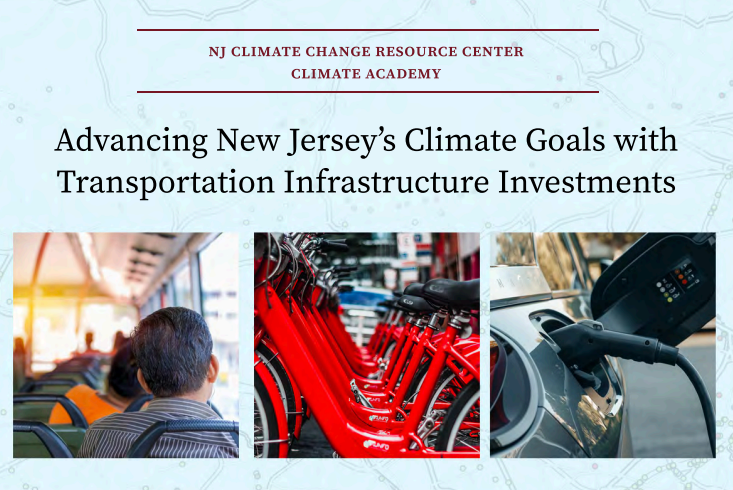 On January 20, GCC's Director of Mitigation Programs James Bradbury was the featured speaker for a virtual Climate Academy presented by the NJ Climate Change Research Center at Rutgers University. Over the next 5 years, New Jersey could receive more than $16 billion from the Bipartisan Infrastructure Law (BIL). Federal programs provide ample flexibility for states to direct their transportation investments in ways that could help – or hurt – their efforts to achieve climate policy goals.
GCC's research has found that the Bipartisan Infrastructure Law (also known as the Infrastructure Investments and Jobs Act, or IIJA) has the potential to bend the curve down on transportation emissions, but it could also result in emissions that are higher than business as usual, particularly if states invest heavily in expanding highways.
In his presentation, Dr. Bradbury shared insights into the ways those federal transportation funds could contribute to New Jersey's efforts to achieve its statewide 2030 and 2050 greenhouse gas emissions limits. A video recording of the presentation and discussion is now available. 
A panel of respondents – including Jon Carnegie, Executive Director, Alan M. Voorhees Transportation Center, Rutgers University; Zoe Baldwin, New Jersey Director, Regional Plan Association; and Alex Ambrose, Policy Analyst, New Jersey Policy Perspective – provided additional insights into policy and investment approaches New Jersey agencies could weigh as they decide how to use the infusion of federal resources from the BIL and other sources.