Georgetown Climate Center Report Captures and Shares Lessons Learned from the Rebuild by Design Resilience Projects Following Hurricane Sandy
November 14, 2016
In the aftermath of Hurricane Sandy, the Obama administration, in partnership with The Rockefeller Foundation, launched the innovative Rebuild by Design (RBD) competition, which sought to inspire affected communities to rebuild differently in ways that would enhance their physical, economic, social, and environmental resilience. Two years into implementation, these projects are providing important lessons about how officials at all levels of government can design and construct infrastructure projects that deliver multiple community benefits.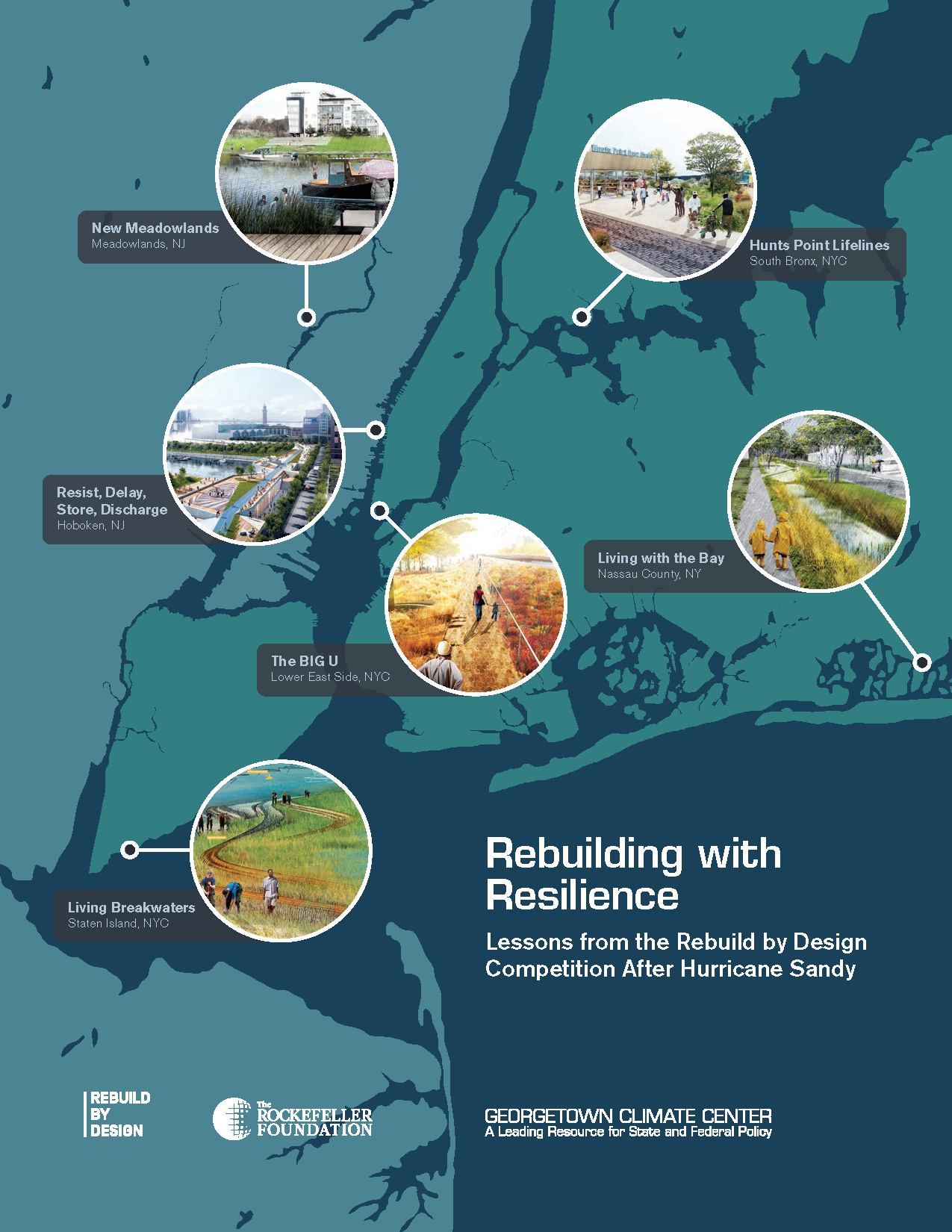 This Georgetown Climate Center report aims to capture and share lessons learned from the innovative process for developing the RBD proposals and the novel projects that were generated through this competition. This report describes how the Hurricane Sandy Rebuild by Design Competition projects are demonstrating innovative approaches for rebuilding in ways that will make our communities more resilient to future climate impacts and other environmental changes, as well as to social and economic stressors. It describes the lessons that can be learned from these projects about how these approaches can be institutionalized and replicated in other communities and regions across the nation.  
The report includes case studies detailing how the state and local government recipients of the funding (State of New York, State of New Jersey, and City of New York) are working to transition from the innovative conceptual proposals developed during the competition to physical projects that can be implemented on the ground.  These case studies explore how the grantees are navigating and overcoming legal and policy barriers as they work to implement these projects. 
The report also includes a comparative summary chapter that captures lessons learned across all six projects and describes opportunities for scaling up and institutionalizing resilience across government programs and policies. This chapter explores the comparable resilience approaches that are being implemented in Sandy affected communities including nature-based coastal defenses to protect against storm surges, green infrastructure approaches from managing stormwater, and land-use approaches for requiring or encouraging private development to be constructed to better withstand flood impacts.  This chapter provides a summary of the key lessons that officials at all levels of government are learning about how to design and construct infrastructure projects to enhance resilience and deliver multiple community benefits. The hope is that local, state, and federal decisionmakers can use the lessons the grantees are learning to make reforms to laws, policies, and regulations, where needed, so that these types of innovative projects will have easier pathways forward in the future.
Key lessons analyzed in this report include:
Infrastructure projects should be designed to deliver multiple community benefits and to solve multiple community challenges.
Achieving comprehensive resilience will require policymakers to take a long-term approach that can be built out in phases over time as additional funds become available and as the impacts of climate change become more severe.
To implement multi-benefit projects (like the RBD project) requires multiple different funding sources, and federal agencies can make this easier by aligning the administrative requirements of different funding streams, especially disaster recovery programs.
To quantify the benefits delivered by these innovative approaches, officials will need to develop or identify funding sources to pay for the long-term monitoring of these projects over time.
The RBD projects provide an opportunity for regulators at all levels of government to analyze and reform regulatory barriers to innovative resilience projects.
Enhancing community resilience will require unprecedented coordination across jurisdictions, agencies, and levels of government to ensure that resilience projects are implemented at the scale needed to effectively reduce risks.
To ensure comprehensive resilience, governments also need to institutionalize resilience approaches to encourage or require implementation by private parties and public agencies.
Robust and continued public participation and engagement can enhance project design and develop community advocates for these types of important resilience projects. 
DOWNLOAD SUMMARY OF KEY LESSONS
Photos from the Release Event: