Polling Released Today by the Georgetown Climate Center Shows Strong Support from Republicans and Democrats for EPA Action
June 24, 2013
87 Percent of Americans – Including 78 Percent of Republicans -- Support Action
With President Barack Obama scheduled to outline his plans for combating climate change tomorrow, the Georgetown Climate Center is releasing polling data that shows strong public support for what is likely to be a key component of the plan.  
It is being reported by media outlets that the President's plan will include EPA action to reduce greenhouse gas emissions from new and existing power plants.  Should President Obama move forward in this regard, he will find plenty of support from both Republican and Democratic voters.
Eighty seven percent of Americans support some EPA action on the issue, including 78 percent of Republicans and 94 percent of Democrats.  Only 13 percent of Americans want Congress to prevent the EPA from enforcing regulations to reduce greenhouse gas emissions.  Only 22 percent of Republicans and 6 percent of Democrats want Congress to intervene.
Americans are particularly supportive of any EPA plan that would give states some flexibility to adopt different clean energy policies to meet national greenhouse gas emission targets while holding states accountable for their progress.  Fifty-one percent of those who favor EPA action support a path that includes some state flexibility in meeting new regulations.
"Like many Americans, we are looking forward to the release of the President's climate plan tomorrow at Georgetown, and the opportunity to work with the Administration on promoting clean energy and building resilient communities," said Vicki Arroyo, executive director of the Georgetown Climate Center, which serves as a resource to states and others on climate policy, clean energy, and resilience. 
"Polling that we are releasing today shows that Americans want the Administration to reduce greenhouse gas emissions from power plants and to take steps to protect future generations from the worst climate change impacts."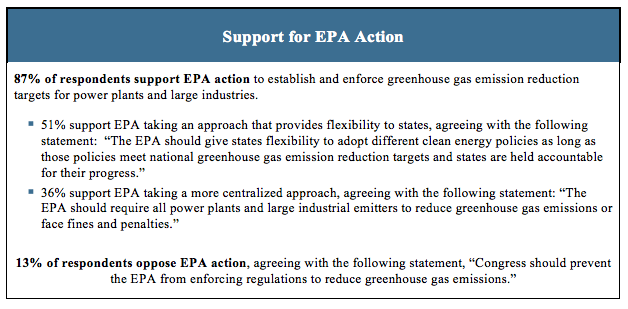 The polling also shows that three in four Americans now say that there is solid evidence that the average temperature has been getting warmer in recent decades, including 61 percent of Republicans. 
A total of 1,874 respondents participated in the poll, which was conducted in February 2013 and had a margin of error of +- 2.3 percent. 
A detailed memo containing poll results is available here.
Georgetown Climate Center staff will be available to discuss the poll results and aspects of the President's plan once announced.
To set up an interview with Vicki Arroyo or other Georgetown policy experts, please contact Chris Coil at 240-535-1669 or coil@law.georgetown.edu or Tom Steinfeldt at 571-235-8462 or tom.steinfeldt@georgetownclimate.org.
The Georgetown Climate Center is a leading resource on policies that seek to both mitigate and prepare for climate changes.  Its widely used Adaptation Clearinghouse (http://www.AdaptationClearinghouse.com) contains more than 1,000 adaptation resources for policymakers.